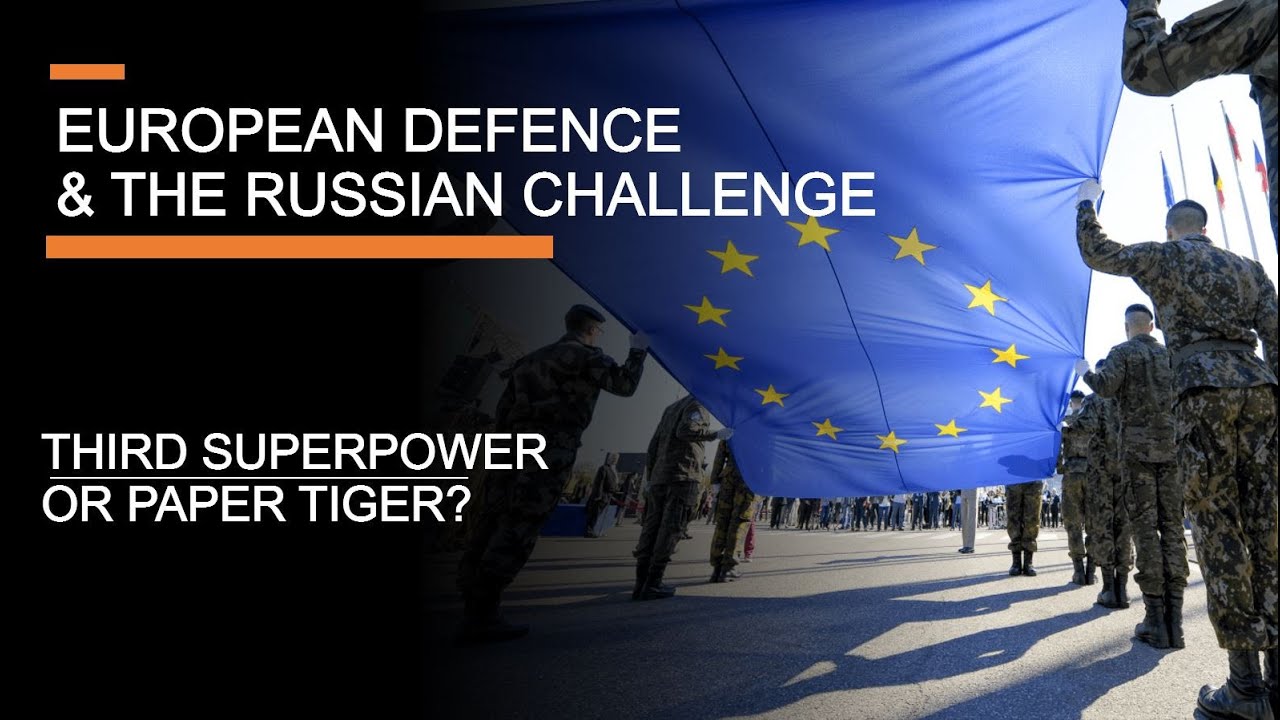 European Defence & The Russian Challenge – Third Superpower or paper tiger?


Sponsored by Ground News:
Compare news coverage. Spot media bias. Avoid algorithms. Be well informed. Download the free Ground News app at: https://www.ground.news/perun
Intro:
Throughout 2022, implied or explicit Russian military threats to Europe by Russian politicians or media figures have become so common as to be almost ubiquitous.
In many ways, this is a continuation of long historical pattern dating back to the cold war, when much of Western Europe lived in fear that, at any moment, the Soviet army may come storming West with a phalanx of metal and manpower. For many European leaders, the assumption long was that only the USA could serve as a meaningful counterbalance to the Soviet threat.
Even with the end of the cold war, NATO wargames and academic papers alike have often modeled scenarios where Russian forces maul NATO opponents, occupying the Baltic States or Poland in short order, demanding an American response.
But 2022 has also proven the Russian military is not what it claimed to be, and so it is likewise worth taking stock of what Europe has to offer. For while individually, most European militaries have glaring shortcomings, especially compared to the USA (particularly in the area of munitions storages and readiness rates) taken together they represent and impressive military force.
Patreon:
https://www.patreon.com/PerunAU
Sources:
System and manpower figures are as per Military Balance 2021.
NATO budget figures for 2021 (est) are as per NATO release:
https://www.nato.int/cps/en/natohq/news_193983.htm
NATO Strategic Concept (2022)
https://www.nato.int/strategic-concept/
INIOCHOS '22 exercise (illustrative of joint exercise/training)
https://ac.nato.int/archive/2022/allied-fighters-increase-combat-readiness-during-exercise-iniochos-22
UK MOD aircraft flight hour figures
https://assets.publishing.service.gov.uk/government/uploads/system/uploads/attachment_data/file/827297/Military_flying_hours_by_fleet_FY2018-19.pdf
International Comparisons of Real Military Purchasing Power: A Global Database – Peter Robertson
https://api.research-repository.uwa.edu.au/ws/portalfiles/portal/96622664/DP19.13_Robertson.pdf
Russian politicians suggesting Poland is in line for invasion:
https://archive.ph/pG5dj
Polish Official stating Europe cannot defend itself without the USA
https://apnews.com/article/russia-ukraine-poland-united-states-crimea-07647005997157def8aa16b8cf833b53
Polling on NATO and common defence obligations
https://www.nato.int/cps/en/natohq/news_196561.htm
RAND – Reinforcing Deterrence on NATO's Eastern Flank
Wargaming the Defense of the Baltics
https://www.rand.org/pubs/research_reports/RR1253.html
Caveats & Corrections:
The use of PPP figures is always fraught with different methods often yielding quite different results. They're useful, and almost certainly necessary if you want an accurate picture, but keep in mind the limitations of the figures used here.
Similarly, while I use MB2021 for consistency between videos for all system/manpower figures, they are not perfect, and in particular the definitions used for active/stored equipment or whether a given unit should count as active/reserve/paramilitary or be ignored entirely is occasionally, in my view, up for debate.
There are also, I believe, three locations where I misspeak in this episode while the backing slides are correct. For example, when the stats on screen refer to PSCs, (big ships) I say coastal combatants or words to that effect. If it sounds odd – check the slide.
Timestamps
00:00:00 — Opening Words
00:01:55 — What Am I Covering?
00:02:46 — SPONSOR: GROUND NEWS
00:03:57 — Evolution Of European Security
00:04:04 — A Militarised Continent
00:05:15 — Nato & The Warsaw Pact
00:06:23 — The Peace Dividend & NATO Expansion
00:08:46 — Ukraine and Beyond
00:10:18 — European Forces Today
00:10:29 — What Are We Counting?
00:11:44 — Let's Talk Money
00:12:23 — GRAPH: Estimated Defence Expenditure (NATO fig.)
00:12:52 — The PPP Factor
00:15:25 — GRAPH: Estimated Expenditure (with PPP Premiums)
00:15:52 — The PPP Picture
00:16:46 — Manpower
00:18:14 — GRAPH: Active Reserve Manpower
00:19:36 — Equipment
00:20:41 — The Full Spectrum
00:21:23 — European Strengths (on Paper)
00:21:38 — European Strengths: Land
00:23:30 — European Strengths: Sea
00:25:42 — European Strengths: Air
00:28:02 — European Strengths: Independent Atomic Deterrence
00:30:47 — Fit For Purpose?
00:32:11 — There is No "European" Military
00:33:41 — Challenges of Division
00:36:20 — Can, Would & Deterrence
00:37:45 — Modernisation
00:38:48 — Depth & Resilience
00:39:56 — Readiness and Mobility
00:41:40 — Comparisons & Capabilities?
00:42:33 — Russia as the Yardstick
00:46:16 — Demonstrated Capabilities
00:48:12 — The Aerial Dimension?
00:49:34 — Cognitive Dissonance?
00:50:44 — The US Comparison
00:51:29 — THe Gap – Power Projection & Nuclear Capabilities
00:54:48 — Opportunities to Grow?
00:57:47 — Conclusions
01:00:07 — Channel Update

source
Reviews
Sharing